The Cultural Capability pathways have been developed by Ako Aotearoa to deliver high quality teaching and learning that is more culturally-appropriate for our Māori and Pacific students. This is particularly relevant for people working at the Foundation level of tertiary education (Levels 1–3) where literacy and numeracy skills are absolutely key to learner success and achievement.
You can help your Māori and Pacific learners and employers achieve greater success by building your own knowledge, confidence, and cultural capability. Connecting to your learners on a cultural level can lead to stronger relationships, improved engagement, increased pass rates and ultimately, better learning outcomes for them.
To access the Cultural Capability pathways you must register as an educator. If you register for a full educator account you will have access to all learner and educator pathways, including Cultural Capabilities, or you can register for Cultural Capabilities only. There is no educator functionality available on the Cultural Capabilities only account.
The Māori Cultural Capability pathway
This pathway offers a great springboard to gaining the cultural knowledge of Te Ao Māori that can make all the difference for how educators and employers relate to and support Māori learners.
There are 4 collections of modules centred around 4 Māori values:
Ako ( learning and teaching)
Manaakitanga (consideration for other people)
Rangatiratanga (own learning decisions)
Whanaungatanga (relationships)
Ako Aotearoa also offer facilitated workshops using these pathways. To find out more visit https://ako.ac.nz/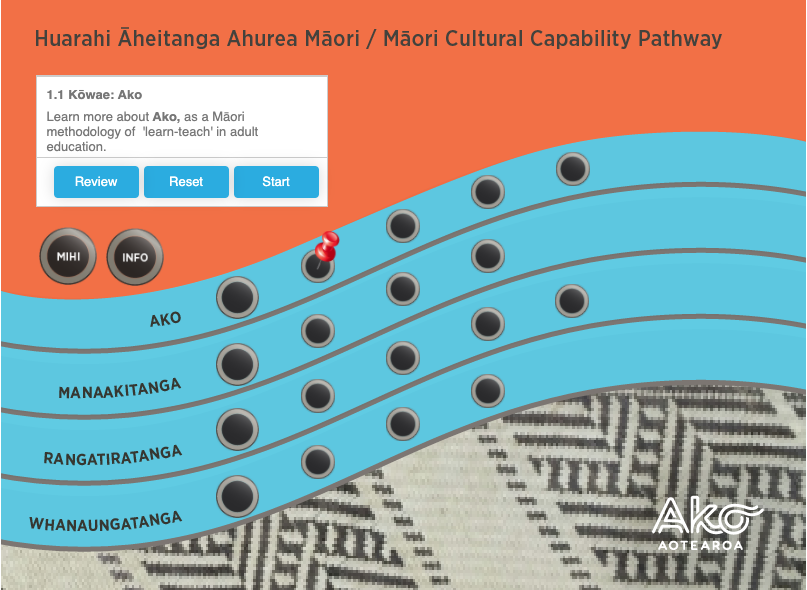 The Pacific Cultural Centredness pathway
This pathway includes seven interactive modules based on different Pacific nations: Samoa, Fiji, Cook Islands, Niue, Tokelau, Tonga and Tuvalu.
Each module focuses on:
The core values held by each Pacific nation.
Participation in activities and reflection to help embed the values in your knowledge bank.
Gaining practical tools to help you implement the values when engaging with Pacific learners.