Tapatoru Educator Pathway
Welcome to the Tapatoru Educator Pathway, a holistic, learner-centred framework underpinning a values-based approach to tertiary education.
Tapatoru is a professional development and reflective practice tool, and this transformative journey empowers you to actively embody the core Tapatoru values in your practice:
Whanaungatanga (building relationships)
Manaakitanga (showing respect and care)
Wairuatanga (nurturing the spirit)
Aroha (empathy)
Programme Overview
The Tapatoru Educator Pathway provides educators with essential skills, strategies, and knowledge to weave Tapatoru values into teaching and support roles.
Our core content explores fundamental topics such as:
Embedding literacy and numeracy effectively
Building a foundational understanding of Māori cultural capability
An introductory guide to Pacific cultural centredness
Understanding neurodiversity with an emphasis on learning differences
Foundations of ESOL for tertiary educators
In the coming months, we will also add further topics including:
The integration of technology-enhanced learning, including artificial intelligence (AI) and online teaching methodologies
Foundations of ESOL for tertiary educators
Unveiling the principles of successful tertiary teaching
Strategies to facilitate effective tertiary teaching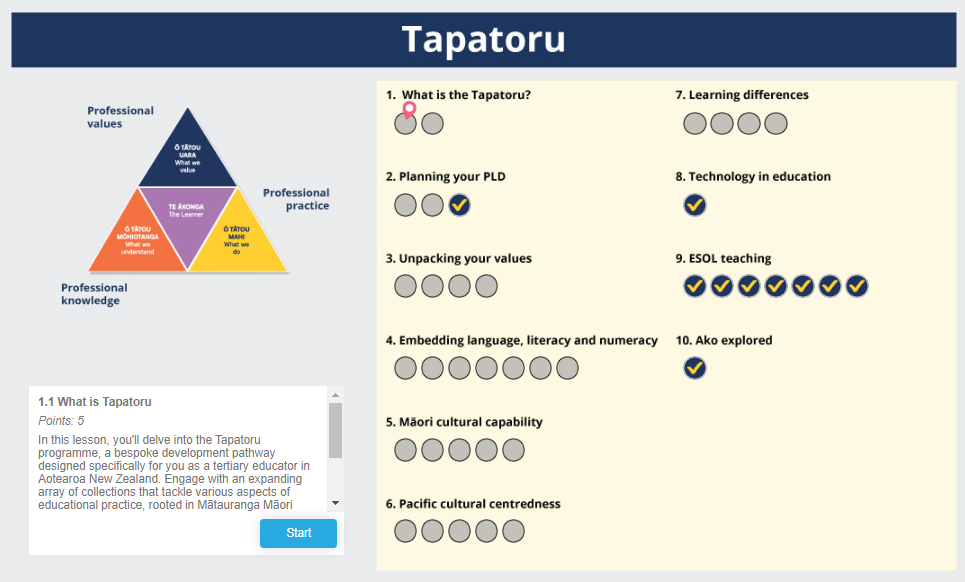 Benefits of the Programme
The Tapatoru Educator Pathway will provide insight into how a values-based approach can underpin what you do and how to articulate it. It will better equip you with the tools to provide meaningful and inclusive learning experiences for your ākonga (learners). Your enhanced understanding will include:
Fostering inclusivity: Learn about and develop strategies to ensure safe, inclusive, and nurturing learning environments that empower every ākonga.
Enhancing ākonga engagement: Learn techniques to encourage engagement and foster a sense of agency and active involvement among ākonga.
Cultivating empathy: Increase your ability to understand and better connect with diverse ākonga while meeting their needs more effectively.
For more details, visit Ako Aotearoa's Tapatoru webpage.
To start the pathway, register as an educator, log in to your account, navigate to 'Educator pathways,' and select the 'Tapatoru Ako Professional Practice' tile.
We value your feedback and suggestions as they help us improve and grow. Share your valuable insights at pld@pathwaysawarua.com. Together, we can shape a transformative era for tertiary education in Aotearoa New Zealand.